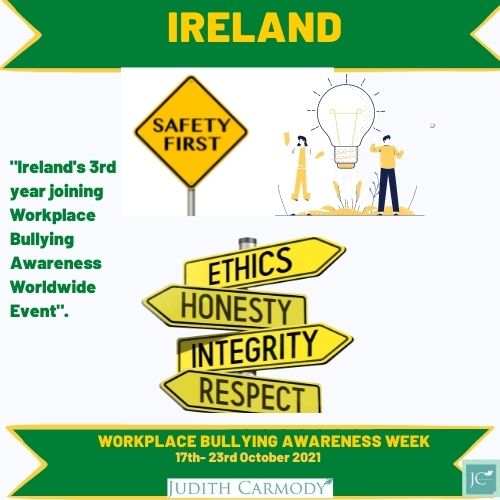 Psychological Safety in the Workplace
An employee's health and wellbeing in the workplace is a human right.  A person must feel they can have a sense of self-control for their personal safety and wellbeing in the workplace. A sense of belonging, safety, equality, purpose, inclusion and respect are human requirements. If any of these requirements are violated it can have a devastating effect on the performance and wellbeing of an employee. Psychological abuse goes deep and the effects on a target of workplace inappropriate behavior are long-term. Usually, a target copes or survives for as long as possible, but sustained exposure to bullying can  lead to profound psychological issues, e.g. panic attacks, breakdown, burnout and mental health issues will arise, including anxiety and depression, which could lead to suicide. Ostracism has devastating effects on the target's ability to function socially which is essential for work and for life. Ostracism is a wall of silence or a wall to prevent a two-way communication that alienates and devastates people.
The affects are even more devastating when the target is targeted by more than one person, than it is called mobbing. We see this in many ways in the workplace, cliques, ingroups etc. This type of mobbing inflicts psychological injury, blame and makes the target feel that since they are alone or worse that  they are the problem. Overt or covert unhealthy behavior can further decrease the target's ability to function or feel safe. It is extremely hurtful and damaging enough to end a person's working career and in worst case scenarios even could end their life. It is essential that we raise awareness and open a space for people to talk and support to happen. The more we open up the hidden aspects of workplace bullying the more we can advocate to make the workplace safer for everyone.
Workplace Bullying Awareness Week
This year will be Ireland's 3rd year taking part in a Workplace Bullying Awareness Week (17th October to 23rd October 2021). The genesis for this awareness campaign came from Linda Crockett who joined Gary Namie (founder of the USA Workplace Bullying Institute) and his "Freedom from Workplace Bullying Week" about 7 years ago.  The Workplace Bullying Awareness Week October (17th – 23rd October 2021) is Linda's initiative with its inspiration for Gary's work seeks to broaden awareness of this very important workplace issue. Three years ago Linda invited others around the globe to join in the advocacy of making Workplace Bullying Awareness Week   a world- wide event. What better way is there than the power of WORLD energy building awareness of this epidemic!  Irish workplace bullying expert Judith Carmody joined this global event in 2019. It is going from strength to strength and this October will be Ireland's 3rd year contributing to this global event. Join us! Raise awareness and help de-stigmatic this devastating and unjust work practice.
Judy